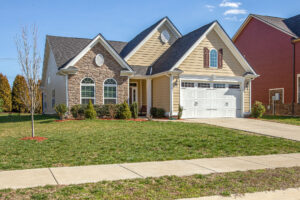 Spring Hill TN homes for sale – The Wuhan virus lockdown had to have had a major impact on the real estate market in Spring Hill, but the statistics seem to say that maybe not as much as we think. New construction homes using the local commercial roll off services have been completing fast and are still selling really fast, and they are easy to show, so that makes sense, but resale listings are still not as common as a normal spring.
69 Spring Hill TN homes sold during the month of May an increase of 11% for the same month last year
The average price of homes sold in the Williamson county side of Spring Hill was $401,839 and increase of 14% over last year
The list price to sales price ratio of sold homes was 99.7% for the month
115 Spring Hill TN homes are currently listed in the Nashville MLS as available for purchase, but most are still under construction
161 homes are currently under contract pending sale, most are new homes waiting for completion
the average price per square foot for Spring Hill homes sold during the month of May was $157 compared to $150 for the same period last year, an increase of 4.6%
Investors seem to have backed away from aggressive buying in Spring Hill but prices are still rising, just at a slower pace. Homes in Spring Hill TN are now averaging $157 per square foot compared to $225 in Franklin.
Search for Spring Hill TN homes for sale here.
For the most-up-to-date information on Spring Hill TN homes, then we urge you to contact us. We can assist you with all aspects of buying or selling real property in this and other neighborhoods in the Nashville Metro area. Also ask to be placed on an instant notification system when any new Spring Hill listings come on the market or price reductions in Spring Hill TN homes are posted.
information on this page is based on information on Spring Hill real estate per the Nashville Multiple Listing Services, Inc. and is deemed reliable but, not guaranteed.
This posting and the contents written here are the intellectual property and opinions of
Larry Brewer
of Benchmark Realty.